Arts
A collection of miscellaneous arts related to KVIrc.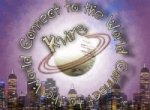 "Connect to the World" Splash Screens
Author: SuSp|r|a
Date: 18.05.2005
Six colorful variations of a nice comix-like theme for these splash screen replacements. Just save the chosen image as $HOME/.kvirc/pics/kvi_splash.png. You can also use these nice splashes as banners or as starting point for your own art.
---